The nomination process for the Edublog Awards has closed and voting has begun. When we hopped on to look this morning, we were ecstatic to find we had been nominated in three categories!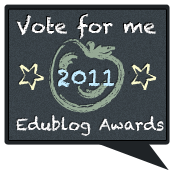 We need your support to help highlight all the hard work and effort we have put into our blog and wikis. You can vote once a day from now through December 14th. Winners will be announced at an online awards ceremony on December 15th at 7 p.m. We look forward to finding out who all the winners are!



If you'd like to vote, you can do so by clicking here. Use the dropdown menu to choose the category you'd like to vote for. Then, scroll down to you find us! The page you're on should look something like what you see below.




We're nominated in three different categories. You can click on each title below to be taken directly to that category.

Best Class Blog

Best Use of Audio/Visual/Podcast

Best Education Use of a Wiki

The top two categories are for work with our classroom blog. The last nomination was for our Student Made Math Movie wiki, which includes math videos made by students from around the world.

I also recommend you vote for some of our friends. They're all highly deserving of rewards for all of their hard work!

Best Individual Blog – Mrs. Morris or Miss Jordan
Best Tweeter – Mrs. Morris
Best Group Blog – Our World, Our Stories
Best New Blog – Tech with Intention
Student Blog – BB's Blog, Jarrod's Blog, Jordi's Blog, Millie's Blog, or Miriam's Blog
Most Influential Blog Post – Mrs. Morris or Mrs. Yollis
Best Teacher Blog – Mrs. Morris or Miss Jordan
Best Library Blog – Bell Bulldog Readers
Lifetime Achievement – Mrs. Yollis or Mrs. Morris

Again, all of those are definitely well deserving of our votes! I hope you take the time to cast yours.

Don't forget, you can vote once a day for each category. We look forward to receiving yours!
Have you voted yet?
Leave a comment and let us know who you voted for!